Top Paint Companies In India of 2023
Paint companies in India: India's infrastructure business is growing very quickly. A lot of new buildings are going up quickly. Without appropriate paint, every structure would be incomplete. Using paint makes the structure look more appealing and gives people visual pleasure.
Introduction
The paint business in India is worth about 50,000 crore rupees. Some people also say that India's paint industry is one of the industries in Asia that is growing the fastest. There are many different kinds of paint made by paint companies in India, like
Distemper
Oil paint
Acrylic paint
Plastic paint
Latex paint
Emulsions
Moreover, paints have become more durable and able to handle changes in the surroundings as technology has grown. India has a lot of different paint names from which to choose. Let's look at some of the best paint companies in India.
Top 7 paint companies in India
#1. Asian paints
First on the list is Asian Paints. It makes more paint than any other paint company in India. The Company makes over $2.7 billion annually and is present in almost 19 countries worldwide.
The Company now makes paint for inside and outside walls, tile guard waterproofing products, paint for wood and metal, adhesives, and paint tools.
They have also released an official app on Google Play and the Apple App Stores, with tools like a paint cost estimator and a color picker. Furthermore, Asian Paints is also used in home decor, items for the bathroom and kitchen, and lighting.
| | |
| --- | --- |
| Founders | Champaklal Choksey, Arvind VakilChimanlal Choksi, Suryakant Dani (1942) |
| Website | www.asianpaints.com |
| Total Sales | ₹ 22,043 Cr |
| Sales Growth (3Yrs): | 10.66 % |
| ROE | 23.97 % |
#2. Berger Paints
Next is Berger Paints India, based in Kolkata. It has 16 strategically placed manufacturing units in India (including companies), 2 in Nepal, one each in Poland and Russia, and 162 stock points. There are further offices in Nepal, Bangladesh, Poland, and Russia for the Company.
| | |
| --- | --- |
| Founders | Lewis Berger (1923) |
| Website | www.bergerpaints.com |
| Total Sales | ₹ 6,869 Cr |
| Sales Growth (3Yrs): | 12.82 % |
| ROE | 21.00 % |
#3. Kansai Nerolac Paints
In 1920, Kansai Nerolac Paint Ltd. opened for business. The primary headquarters of the Company is located in Mumbai, Maharashtra.
The Company sells a variety of products, including basic and industrial chemicals as well as a wide variety of decorative paints, coatings, and industrial (re)finishing solutions. It makes and sells paint systems for the finishing lines of the bicycle, material handling, bus body, electrical component, container, and furniture industries.
| | |
| --- | --- |
| Founders | Katsujiro Iwai (1920) |
| Website | www.nerolac.com |
| Total Sales | ₹ 5793 Cr |
| Sales Growth (3Yrs): | 12.90 % |
| ROE | 13.37 % |
#4. Akzo Nobel paints India
AkzoNobel India is one of the top paint companies in India, operating for the last 60 years in India. It's a major paint and coatings manufacturer. The organization has five offices and depots across India.
Imperial Chemical Industries Ltd., the parent company of ICI India Limited, was acquired by AkzoNobel NV under a scheme of arrangement under section 425 of the UK Companies Act 1985. The Company became AkzoNobel India Limited.
| | |
| --- | --- |
| Founders | Mr Rajiv Rajgopal (1994) |
| Website | www.Akzonobel.co.in |
| Total Sales | ₹ 2,842 Cr |
| Sales Growth (3Yrs): | 3.40 % |
| ROE | 15.95% |
#5. Indigo Paints
Indigo comes in at number 5 on the list. Mr. Hemant Jalan founded Indigo Paint in Pune in the year 2000. Indigo paints bring in about $80 million a year and are sold through a well-developed network.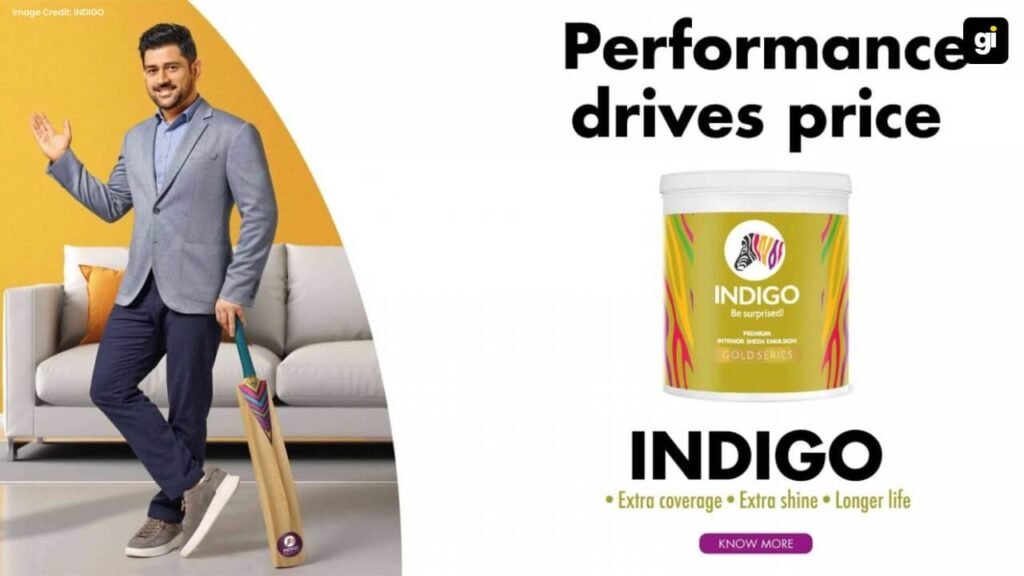 Indigo Paints' brand icon is Mahendra Singh Dhoni. Indigo Paints started out by making cheaper cement paints, but as the Company grew and changed, it started making paints that were based on water.
Indigo Paints also makes other things, like
Paints for stone and tile
Leakproof emulsions
Interior and outdoor emulsion
Enamels
Putties
Primers
| | |
| --- | --- |
| Founders | Hemant Jalan (2000) |
| Website | www.Indigopaints.com |
| Total Sales | ₹ 726 Cr |
| ROCE | 24.8% |
| ROE | 18.6% |
#6. Nippon paints
Nippon Paints is ranked sixth on the list. The Japanese Company Nippon Paint has been making paint for almost 140 years. Two brothers started Nippon Paint in 1881.
Nippon makes many different kinds of paint, such as those for boats, cars, factories, and homes. Japan is a supporter of the idea of sustainable growth.
Since the Company has been in India for more than ten years, it has become a well-known name in paint for home use. It brings in about $66 million a year
Nippon India mainly sells paints for
Walls inside and outside
Paints for wood and metal
Primer
Undercoat
| | |
| --- | --- |
| Founders | Haruta and Jujiro Moteki (1881) |
| Website | www.nipponpaint.co.in |
| Total Sales | ₹ 500 CR |
#7. Shalimar Paints Ltd
The Shalimar Paint Color & Varnish Company was started in 1902 in Howrah, west Bengal. In 1902, Shalimar Paints opened the first large-scale factory in South-East Asia.
As the Company grew in India, it opened a second factory in 1992 in Nashik, Maharashtra, to serve the Western part of the country. In 2002, Shalimar Paints opened up its third factory in Sikandrabad, U.P. Shalimar quickly became the most popular paint name in the country.
Rashtrapati Bhavan, Howrah Bridge, Vidyasagar Setu, and Salt Lake Stadium, which are all well-known buildings in India, still use Shalimar Paints. Shalimar Paints was the first Company to make airplane coatings, marine paints, and paint for thermal power plants because it had access to high-end technology in the industrial coatings market.
| | |
| --- | --- |
| Founders | AN Turner and AC Wright (1902) |
| Website | www.shalimarpaints.com |
| Total Sales | ₹ 332 Cr |
| Sales Growth (3Yrs): | -9.15% |
| ROE | -29.73% |
Final words on paint companies in India
The increasing development of infrastructure inside the nation perpetuates a consistent need for paint companies and brands. Companies that have successfully eliminated competition are seeing significant success in their company operations through the development and provision of innovative products. Moreover, prominent entities within the paint business are allocating substantial resources toward the development and implementation of branding and marketing initiatives.
FAQ:
Which is the leading paint company in India in terms of market share and revenue?
Asian Paints Ltd holds the distinction of being the largest paint company in India.
Which are the leading paint companies in India?
Top 10 paint companies in India are:
Asian Paints
Berger Paints
Kansai Nerloc Paints
Akzo Nobel India
Indigo Paints
Nippon Paints
Shalimar Paints
Jotun
Jenson & Nicholson Paints
Sheenlac Paints
Also Read: 14 Best Business Movies on Netflix All Entrepreneurs Should Watch