Top Dropshipping suppliers for Amazon in 2023
Dropshipping suppliers for Amazon: Amazon is one of the largest markets in the world, without question. Selling using Amazon's dropshipping service can be just as lucrative as selling directly to customers.
If you have a successful product to offer and a trustworthy dropshipping supplier you can achieve massive success. Amazon allows drop shipping, but they don't have any partners who can handle the entire process for you (from finding products to shipping them to your clients.
It is possible to use Amazon's FBA (Fulfillment by Amazon) service in conjunction with a local provider to fulfill customer orders. However, there is a fulfillment cost associated with using this service. Having to split the bill might have a significant impact on your bottom line.
Finding a third-party vendor who can handle product sourcing and order fulfillment on your behalf is the best option. And there are lots of dropshipping suppliers for Amazon.
What is dropshipping?
Let's review the basics of dropshipping before we dive in. It's a purchasing and shipping method where the online retailer doesn't handle inventory or shipping. Instead, a dropshipping supplier receives an order from a retailer and sends the products directly to the buyer.
The primary benefit of this technique is that it eliminates the risk of sellers investing in inventory they might not be able to sell. Instead, they wait until a sale is made before purchasing the goods from their vendors.
Top 8 Dropshipping Suppliers For Amazon
If you're an online retailer looking to expand your customer base and boost your bottom line, dropshipping may be the way to go. However, it's vital to do your homework and choose the right supplier for your business. Suppliers can also be met in person at conventions and expos.
Many of the listed vendors need sizeable minimum order sizes. When you open an Amazon store, you may start selling things and making money through drop shipping.
The following dropshipping suppliers for Amazon provide a large selection of high-quality goods at reasonable costs and backed by friendly, helpful staff:
1. AliExpress
You can choose suppliers based on the relevant products in the region and directly expand your Amazon business with one of the dropshipping suppliers for Amazon that ship directly to the client.
In fact, using the finest dropshipping directories can help you locate the most reliable and competitive suppliers in your industry. AliExpress makes it simple to identify products, suppliers, and customers, all of which contribute to a high dropshipping success rate.
With AliExpress dropshipping, businesses can provide a wide selection of products without the overhead of stocking and managing the products themselves.
Key Features
Major e-commerce platform integration
Data indicates
Inventory management
2. SaleHoo
SaleHoo provides its customers with a comprehensive catalog of over 1.6 million quality-assured products and over 8,000 reliable dropshipping suppliers.
This is a product research instrument that analyzes sales data from sites like Amazon and eBay to predict how well a given product will do in the market.
Salehoo's directory is one of the most reasonably priced options out there, costing only $67 a year to access. For an extra $27 a month, the SaleHoo crew will construct an online store for you.
There is no free trial, but they do provide a 60-day money-back guarantee. Furthermore, for new drop shippers who merely want to learn the basics of the platform, the training can be daunting.
Key Features
Market Testing Facilities
Pre-screened vendors
Simple indexing system
3. Doba
Doba is dropshipping supplier for Amazon that connects you directly with wholesalers and is thus one of the largest dropshipping directories worldwide. The directory is compatible with every major e-commerce platform and features over two million products sold by over 200 vendors.
You can also get reports that assess supplier costs and delivery methods, which can be saved in CSV or XML format.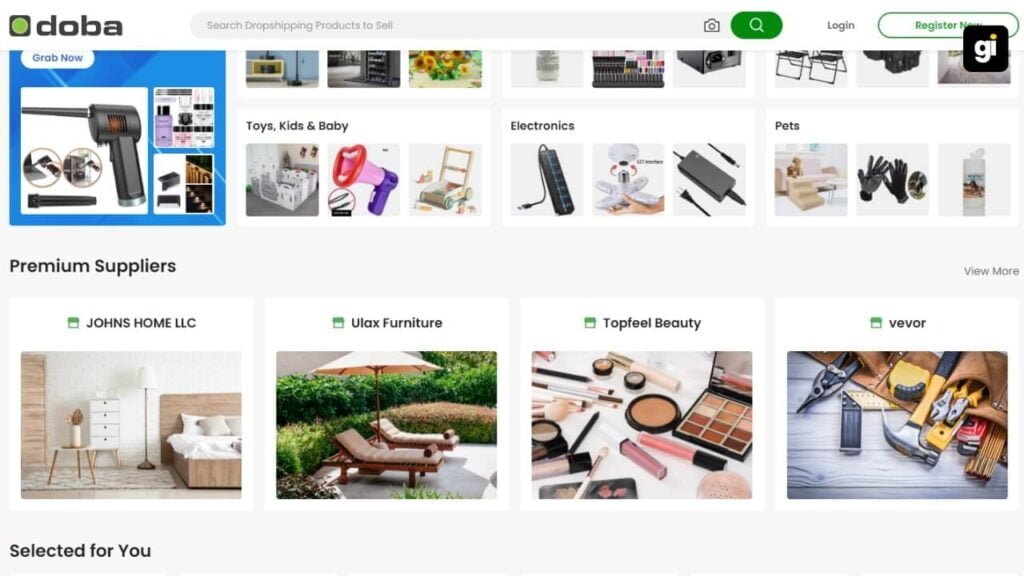 If a supplier is getting low on a specific product or if the description of the item has changed, you will be notified of this through the inventory management system.
The starting price for a Doba account, which grants you access to the database and support system, is $29.
Key Features
E-commerce platform integration
Statistics indicate
Management of Inventory
Supports all of the most popular online marketplaces
Has a database of over two million products.
The quality of their client service
Other Business Idea: 11 Most Innovative Kidswear Business Ideas In 2023
4. Inventory Source
Inventory Source is a well-known dropshipping supplier for Amazon known for its automated and site-building tools. Despite the unimpressive list of suppliers, over a million dropshipping items are available for perusal.
Its website-making tools let you send data like product pictures and descriptions straight to your Amazon store. In fact, you can create a brand-new website from scratch if you don't already have one.
The platform is compatible with twenty-four of the most popular online stores and marketplaces. The platform is membership-based, but its pricing is contingent on the number of suppliers you utilize.
Key Features
Integration with leading e-commerce platforms
Send product descriptions and images.
Site development
5. Wholesale2B
With an integrated system that supports the majority of the leading e-commerce platforms, Wholesale2B gives you access to over a million products from over 100 dropshipping suppliers.
Wholesale2B's price structures are unique among these directories because they vary according to the type of e-commerce platform you're utilizing.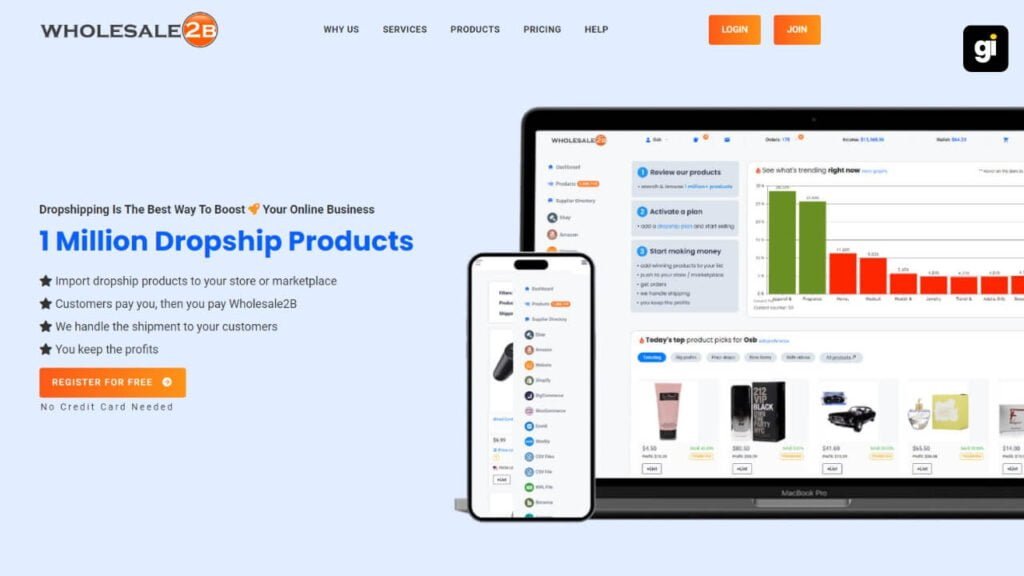 For comparison, the monthly fee for using Wholesale2B with Amazon or eBay is $37.99, whereas the price for using Shopify, BigCommerce, or WooCommerce is only $29.99.
Wholesale2B's platform-specific pricing might help you save money, and constant data synchronization ensures that your online shop is always up to date.
Key Features
Integrating major e-commerce platforms
Use specialized filters on queries.
Real-time inventory updates
6. Worldwide Brands
Worldwide Brands, another Amazon dropshipping company.
The site provides sellers with a large range of high-quality wholesale items from reputable, verified, and recognized suppliers.
Worldwide Brands ensures sellers can locate qualified drop shippers, light bulk wholesalers, and volume distributors practically everywhere.
There are no monthly or yearly fees, as a lifetime membership to Worldwide Brands costs just $299. This opens the door to over 16 million wholesale items from any and all distributors.
Key Features
A reliable and trustworthy list of vendors
Provider details in great detail
A lifelong charge is affordable.
Budget-friendly
7. Sunrise Wholesale
Sunrise Wholesale has provided dropshipping access to thousands of wholesale items for over 20 years.
It offers toll-free email, phone, and chat support, gold member pricing per product, data, and product feeds in XML and CSV, and 30 product categories.
When you sell something on Amazon or your own website, Sunrise Wholesale will handle the shipping and handling for you.
The platform also provides a collection of items that may be previewed, all of which are well-suited for sale on Amazon, through mail orders, at house parties, via online auctions, in retail stores, and so on.
Sunrise Wholesale offers a 7-day free trial and $29.95 monthly memberships.
Key Features
Non-minimum orders
Amazon/other eCommerce platform integration
Simple rates
Affordably monthly
Free test
Set up a custom site or domain
8. Spocket
Spocket's dropshipping database software works effectively for US and international shippers. They filter by country and let you add items to Shopify.
They make it easier to locate US and EU products that ship from your nation rather than China, speeding up shipping. This benefits both you and your clients by keeping expenses down.
You may browse Spocket's product database with a free plan. You can switch to a premium plan when you're ready to sell.
For $24.99, you may get the Starter plan, which includes 25 items and unlimited orders. Pro costs $49.99 per month for 250 goods and branded billing.
The Empire plan's $99.99 monthly fee grants access to an infinite supply of goods.
Spocket offers a free 14-day trial, so you can get started selling worldwide right away.
Final Words
Businesses who want to offer a wide range of items on Amazon may find success with the dropshipping strategy. However, success also necessitates a serious dedication to study, advertising, and order management. With the correct mindset, dropshipping through Amazon's fulfillment services may be an attractive and satisfying method to expand your business and connect with clients all over the world.
FAQ:
Is dropshipping effective in 2023?
Yes, dropshipping is an effective way of doing business in the year 2023.
How to find suppliers for dropshipping on Amazon?
By following below five simple steps, you can find the best dropshipping suppliers for Amazon.

1. Market Research
2. Contact the Suppliers
3. Order Samples
4. Negotiate
5. Decide
What are the top dropshipping suppliers for Amazon in 2023?
The top dropshipping suppliers for Amazon in 2023 may vary based on specific product categories, but some popular options are,

1. AliExpress
2. Oberlo
3. Doba
4. Inventory Source
5. Wholesale2B
6. SaleHoo