How Tata Motors become World's Biggest Truck Manufacturer
Friends, Tata Motors continues to dominate truck and bus manufacturers across the world.
Whereas in the case of personal vehicles, the sales of Tata Motors are limited only to India and some of its neighboring countries.
On the other hand, in the case of commercial vehicles, especially trucks, Tata has left behind the rest of the companies around the world. Tata has around 53 percent market share of commercial vehicles in India.
But becoming the 2nd biggest manufacturer in the world was not an easy thing. Because many other companies like Volvo, and Peterbilt were present before them at the global level. And it was not easy to leave them behind and take them forward.
Now before we know how they did it, let us know how it all started. The most surprising thing is that when Tata started in 1945, it was not Tata Motors but Tata locomotives and engineering limited.
Along with Locomotive, they were also making Excavators, Industrial Shunters, Dumpers, and Road rollers running on stream. Tata company was making all these things in collaboration with one or the other European company.
Tata and Mercedes-Benz Collaboration
And in the same way, he collaborated with Mercedes and launched his first truck in 1954 under the name of Mercedes Benz. However, the joint venture between Mercedes and Tata did not last long and the truck was renamed.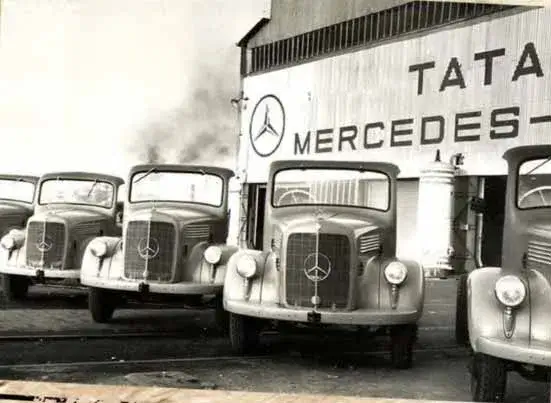 This collaboration may have worked out, but Tata was going to run a long race in this race.
In 1961, he started exporting his commercial vehicles outside India. And it was his move that today made Tata Motors a global company in terms of commercial vehicles.
First, they exported their trucks to Sri Lanka and once they started doing business outside India, it did not take time to reach different countries of the world.
In 1964, he started sending his trucks to Africa. Although Tata motors launched different types of trucks in the market, Tata 407 is such, which can be called the milestone of Tata's success. As soon as the Tata 407 was launched in India, it rapidly increased the popularity of Tata in India.
It soon overtook the already existing trucks like Eicher, Mitsubishi, and DCM in the market and acquired up to 75% market share in its category. Not only in India, but this truck also sold vigorously in 15 other countries as well. But just that was not enough. To reach the next level, he needed new technical advancements.
Now there are two ways, either the company itself should work on research and development. And secondly, those companies whose technologies are better should venture with them. Tata did both. Africa has the biggest hand in the growth of Tata motors at the international level.
Although it is not so easy to do business with vehicles in Africa because most of the population there comes from the poor class, so most people there can afford second-hand vehicles only.In such a situation, if the price of your car is very low, then only people will buy your product.
Tata Daewoo
To tackle this problem, Tata set up 6 assembly plants in the African continent. Where knockdown parts were transported from India. Now the advantage of this is that the cost of Tata's vehicles has come down and the people of Africa also got employment.
Tata motors have planted its flags in Africa as well as in South Korea. Tata's business in Korea started with a venture with Daewoo Motors. At that time the condition of Daewoo's vehicles was getting worse.
So in 2004 Tata acquired his company there. Due to the expertise of both companies, soon Tata Daewoo's business started in Korea. And today Tata Daewoo is Korea's second-largest commercial vehicle manufacturer. And this is a big deal because it is considered very difficult for any foreign company to survive in the Korean market.
There only Korean company survives or joint ventures. Today Tata is the 2nd largest manufacturer in South Korea in terms of Trucks. Like Tata, Country Delight also grew it's business a lot and did a business of 1000 crores.
Like This Post? Checkout More