What Happened To Snactiv After Shark Tank?
Snactiv After Shark Tank Update: Kevin Choi devised a munching gadget to avoid messy hands and devices while working or gaming. The founders of Snactiv, joined by their co-founder Edwin Cho, delivered a lively pitch in the hopes of attracting investment from the Sharks.
Have they actually closed the deal? Where did things go from Shark Tank? And do people really need Snactiv?
What Is Snactiv?
Moreover, Snactiv stands out as a snacking gadget with unique dual functionality, providing protection not only for your electronics from crumbs but also for your hands during snacking. Worth noting is the fact that the company's headquarters are situated in Los Angeles.
Who Is The Founder Of Snactiv?
Kevin Choi and Edwin Cho, two brilliant friends, created Inoobi Incorporated, the parent business of Snactiv. Kevin earned a Bachelor of Fine Arts from Otis College of Art & Design and has experience working for Disney, Mattel, and Magic Jump Inc.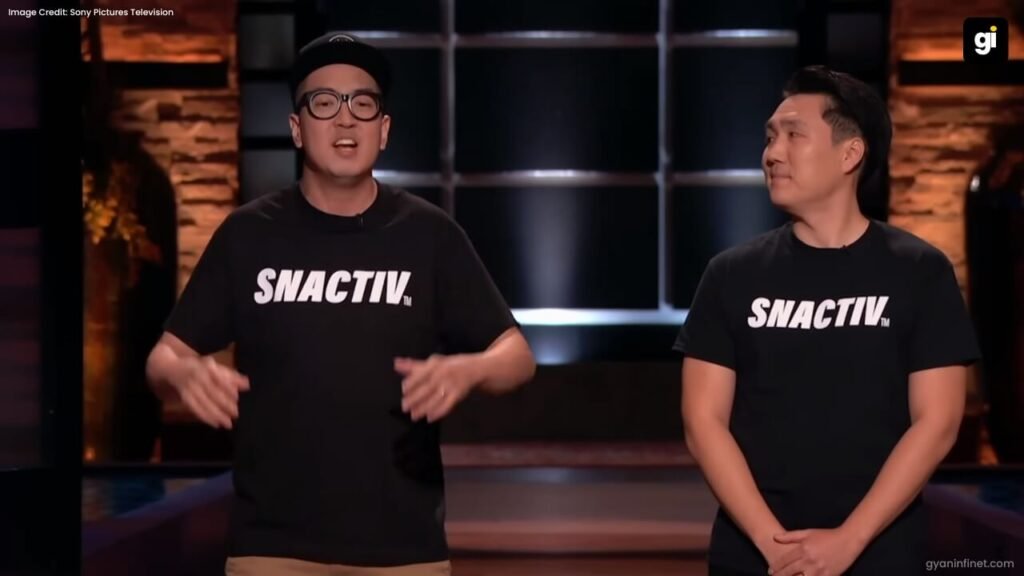 After working at Mattel, ZipRecruiter, and Fuhu, Edwin earned a BSc from New York University's Stern School of Business.
Snactiv's development would not have been possible without its design and commercial expertise.
Kevin Choi and Edwin Cho had already presented the idea on Kickstarter before making an appearance on Shark Tank. They were able to finance $41,700 and make some design changes before appearing on Shark Tank.
Know About the Snactiv Shark Tank Update
Snactiv, a worldwide snacking tool provider, revealed in late June 2022 that it has expanded into Singapore and Canada.
Snactiv also started collaborating with prominent figures in the gaming industry. It has recently partnered with several additional companies, including SNACCDaddyTeej, Darkraizard, and Jessimama.
Snactiv Shark Tank Update
| | |
| --- | --- |
| Company Name | Inoobi, Inc. (Snactiv) |
| Founder | Kevin Choi and Edwin Cho |
| Founded | 2021 |
| Product | is a multi-tasking snacking tool |
| Asked For | $200k for 10% Equity |
| Final Deal | $200k for 20% equity |
| Shark | Kevin Hart and Lori Greiner |
| Snactiv Shark Tank Episode | S13 E10 |
| Air Date | Jan 7, 2022 |
| Business Status | In Business |
| Headquarters | Los Angeles, California, United States |
| Snactiv Net Worth | $1.5M estimated |
| Snactiv Instagram | View Profile |
| GO TO AMAZON | View Product |
Snactiv Shark Tank And Company Details
Another Shark Tank Pitch:
Snactiv on Shark Tank Pitch
The Sharks appreciated the gizmo that keeps snack debris off devices. Sharks were also interested in the company's utility patent and $187,000 revenues. The Sharks liked the founders' humor.
Kevin O'Leary gave Snactiv $200,000 for a 10% interest and a $1 royalty for every unit sold to $1 million.
He improved his offer to $200,000 for a 10% interest and 50 cents royalty till $1 million. After Kevin Hart and Lori offered, he reduced his stake claim to 5%.
Edwin Cho and Kevin Choi ultimately came to a decision that they should side with the two Sharks.
On "Shark Tank," Snactiv was able to get a favorable deal. Kevin O'Leary made three proposals, but Lori Greiner and guest Shark Kevin Hart offered $200,000 for a 20% share.
Snactiv After Shark Tank
Snactiv's success had further grown when the company signed a deal with Kevin Hart and Lori Greiner. 
Snactiv has partnered with businesses in Hong Kong, Taiwan, and South Korea to distribute their snacking tool there.
Snactiv collaborates with OhUsBox in South Korea, NNNN studio in Taiwan, and HOMELESS.hk in Hong Kong. The business is also considering expanding into the Japanese market.
Snactiv Net Worth
The investors on Shark Tank put Snactiv's worth at $1 million. The agreement with Kevin Hart and Lori resulted in a substantial boost to the company's profile and revenue.
We may safely infer that its worth has increased over time, possibly reaching $2 million.
Additionally, it's noteworthy that Scantiv's revenue generation was previously heavily reliant on direct customer interactions. However, the company has now diversified its approach and established lucrative agreements with businesses in several Asian nations.
Is Snactiv Still In Business?
Furthermore, it's important to note that Snactiv, the creator of the versatile munching gadget, is still actively operating in the market.
In addition to their innovative product, the company also offers a range of T-shirts. It's worth mentioning that Lori Greiner and Kevin Hart have a well-established and thriving working relationship.
Who can benefit most from using Snactiv?
Snactiv was developed specifically for computer and laptop users, gamers, and anybody else that wants to enjoy their favorite snack without getting their hands dirty in the process in mind.
Anyone who works or plays for long hours will find the Snactiv to be extremely useful, but only if their preferred snacks are compatible with the Snactiv. Anyone who works or plays for long hours will find the Snactiv to be greatly useful.
Are There Alternatives?
At this current time, there aren't any more direct options that we can think of. It is possible to make a parallel between Snactiv and normal chopsticks, which is something that may be investigated as an option.
FAQs:
Who Founded Snactiv?
Kevin Choi and Edwin Cho founded Snactiv.
What is Snactiv Net Worth?
The estimated Snactiv Net Worth is $1.5M.
Is Snactiv Still In Business?
Yes, Snactiv is still in business.