Barcelona Success Story – India's Leading Clothing Franchise
Barcelona is a retail clothing business that has become well-known for its stylish and modern clothing choices. The journey was started in 2019 by Mr. Jaimin Gupta with the 1st store in Barcelona. Within just 5 months, they opened 10 stores.
Barcelona wants to offer stylish clothing for people who want both comfort and style in their wardrobe. They offer a variety of clothing items across their entire product line. The business just picked popular Indian actor Sonu Sood, well-known for his charitable activities, as its brand ambassador.
Sonu Sood lends credibility and relatability to the brand because of his talent as an actor and his humanitarian work during times of crisis. With Sonu Sood on board, Barcelona hopes to increase brand awareness and appeal to a larger audience.
Barcelona's Marketing Approach
To effectively reach and engage with the target audience, a comprehensive marketing approach requires using a variety of channels and strategies. Barcelonauses various marketing strategies, such as digital marketing, print media, awareness campaigns, road shows, and press releases, to increase brand exposure and attract consumer interest.
Digital-First App For Retailers
Barcelona also launched one of a kind B2B mobile business app for Indian garment retailers. This app is designed to cater to the wholesale market & has features like ordering in bulk at the wholesale price and quick trace.
Advantages Of the App
Bulk Order at wholesale price
More than 100 styles to order
Quick delivery within 3-4 days
Secured payment
App base customer billing
Accurate data on fast-moving &slow-moving products
Today Barcelona has 125+ exclusive brand outlets, 2.5 lakhs+ loyal customers, and 50+ cities they have covered.
The Brand also has recognition from most popular magazines like Forbes, Spot Latest, The Indian Saga & Business standard.
Current Stats of Barcelona
20K monthly manufacturing capacity
2.5 Lacs+ loyal customer base
125+ stores
50+ cities covered
220+ crew delegates
80% beneficial store
1400+ SKUS
The Man Behind Barcelona
Mr. Jaimin Gupta, founder & CEO of the brand Barcelona (Company name – Stitched Textile Limited) is 28 years old which makes him one of the youngest entrepreneurs in Gujarat. In 2015 he launched a textile trading company, then in 2019, he launched Barcelona.
Barcelona is a well-known and reversed brand dedicated to men's fashion at the PAN India level.
Jaimin Gupta is also an equity investor with over 200 crores net worth, including all his investments in the public and private sectors.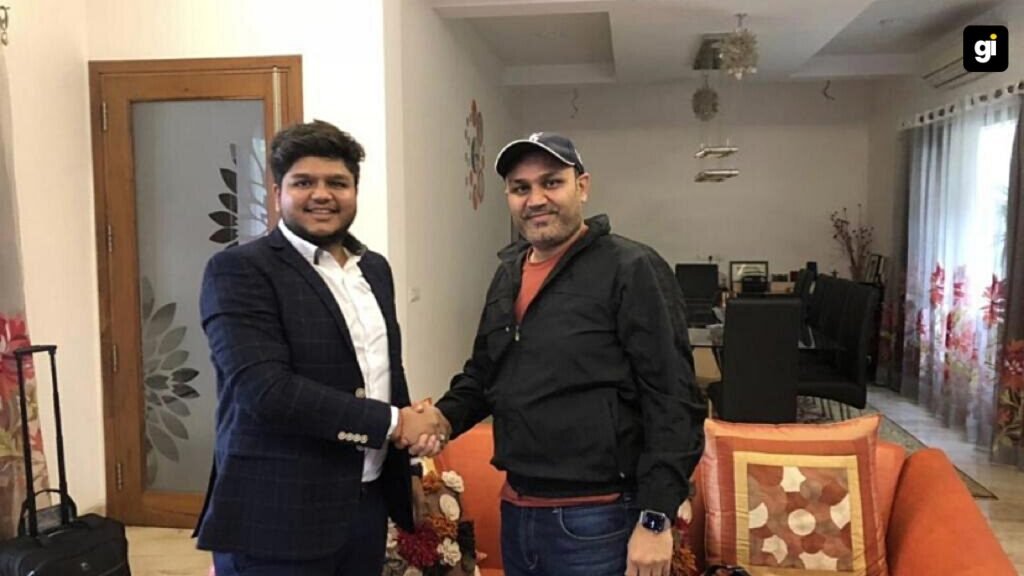 Jaimin Gupta is also the director at "Viru Retail Private Limited," which is a joint venture between "Stitched Textile Limited" and "World Of Viru Private Limited" for business operations of the brand "VS by Virender Sehwag" of the Indian cricketer Virender Sehwag. They aim to convert the sportswear industry into affordable, technical sportswear and equipment.
Jaimin Gupta has over 8 years of experience as a founder of Stitched Textile Limited. It is the leading men's wear retailing company, which has an extensive presence with more than 125 exclusive brand outlets and a presence in more than 3000 multi-brand outlets. The product includes varieties of men's wear such as casual wear, sportswear, innerwear, shirting fabric, suitings & sports equipment.
Jaimin also has been awarded many honorable awards, such as the Divya Bhaskar Legend of Gujarat Award, GIFA Best Brand Of The Year, and TIMA Inspirational Entrepreneur For Woman Empowerment.
He has also spoken at The Indian Fashion Forum as the youngest speaker for consecutive 2 years.
The company has achieved much success in a short time & runs on the goodwill and patronage of many small business owners, who just adored their garments and equipment under the leadership of Jaimin Gupta.
You can contact Jaimin Gupta at jaimin@barcelonaclub.in.
Like This Post? Checkout More Success Story: